---
Man arrested over blog list of pro-war MPs
A 23-year-old man was arrested on suspicion of encouraging an act of terrorism in connection with a website that listed MPs who voted for the Iraq War, police said today.
The man was taken into custody at 9.30am in connection with the internet blog which influenced a student who tried to kill MP Stephen Timms.
Officers from the West Midlands Counter Terrorism Unit conducted a search of the man's home address in the Dunstall area of Wolverhampton and arrested him under section one of the Terrorism Act 2006, West Midlands Police said.
A police spokeswoman added: "The website is the same one that was in the press last week in connection with stabbing of MP Stephen Timms."
Detective Chief Inspector John Denley said: "We are treating the contents and implications of this blog very seriously, and have taken action this morning to progress our investigation."
Computer and electronic equipment was seized for examination from the suspect's home address, police said.
Obama extends emergency regarding Iran
(UPI) — Iranian relations with the United States haven't improved, prompting an extension a U.S. national emergency regarding Iran, the U.S. president said.
A national emergency regarding Iran was declared Nov. 14, 1979, 10 days after Iranian militants took U.S. Embassy employees hostage in Tehran.
The Iranian hostage situation was in part the result of the Islamic Revolution, which gave rise to a clerical leadership in Tehran.
The hostages were released under the partial terms of the Algiers Accord, a 14-page agreement brokered in January 1981 that lays out a series of diplomatic steps meant to repair bilateral ties.
U.S. President Barack Obama said he notified the Federal Register of his decision to continue the state of emergency beyond Sunday.
"Our relations with Iran have not yet returned to normal, and the process of implementing the Jan. 19, 1981, agreements with Iran is still under way," he said in a statement. "For these reasons, I have determined that it is necessary to continue the national emergency declared on Nov. 14, 1979, with respect to Iran, beyond Nov. 14, 2010."
Obama reached out to the Iranian people in the early part of his presidency, though acrimony with the government lingers over human rights issues, alleged Iranian support for terrorism and problems associated with Iran's controversial nuclear program.
source–UPI
China may be bigger economy than US within two years
Here's a finding that will have any red-blooded American spluttering into his cornflakes. According to the Conference Board, a highly respected economic research association, China will overtake the US as the world's biggest economy by 2012, or within two years.
OK, so in dollar terms, that's obviously not going to be the case. It will be a lot longer than two years before China overtakes the US on that measure. But in terms of purchasing power parity, according to the Conference Board's latest world economic outlook, China is already nearly there, and by 2020 will have reached a size of output which is nearly half as big again as the US.

Here's the Wkipedia link explaining what PPP is, but broadly speaking the idea is to measure output according to the volume, not the price of goods and services produced. The assumption made is that identical goods will have the same price in different markets. In practice, this is obviously not the case. A taxi ride in Beijing, for instance, will cost you approximately a tenth of what it costs in London. But it is essentially the same service.
In any case, in PPP terms, the Conference Board's projections show China as 24.1 per cent of world output by 2020, and the US at just 14.8 per cent.
We all knew that the weight of economic growth had skewed dramatically since the crisis from advanced to emerging market economies, but many in the West don't yet seem fully to appreciate the speed with which economic and geo-political power is shifting. This is a truly seismic change. How these once irrelevant economies choose to use their new found power is the overarching question of our times.
source–telegraph.co.uk
(www.foreignpolicy.com) This morning the U.N.'s new umbrella agency for women's rights issues elected its board members. The election had attracted controversy because two of the candidate countries were among the world's most notorious abusers of women's rights, Iran and Saudi Arabia. 
This morning, with strong lobbying from the United States, Iran's election to the board was blocked. Human rights groups had strongly opposed Iran's election, pointing in particular  to the recent death sentence of Sakineh Mohammadi Ashtiani for the crime of adultery.
The 54 countries who sit on the UN's Economic and Social Council did, however, accept the membership bid by Saudi Arabia, where women are forbidden from driving and barred from many public places.
In fact, according to the U.N. Development Program's own Gender Empowerment Measure, Saudi Arabia is actually a worse country for gender equality than Iran. Neither does particularly well, but of the the 93 countries ranked, only Yemen scores lower than Saudi Arabia.
Iran's candidacy for the 41-member executive board had been part of a slate elected by the Asian region while Saudi Arabia was selected for one of the spots reserved for "donor" nations. Not a particularly auspicious start for an important new body.  
Prisoner Speaks Out From Israeli Jail
RAMALLAH, Palestine – Samer Hamdan*, a 26-year-old Palestinian prisoner, recalls being beaten until he bled. Seeing other prisoners covered in blood and screaming is the norm in the Israeli prison, he says.
Hamdan is serving a nine-year sentence in Ketziot prison in the Negev desert for membership of an "illegal organization". 
"In the end you admit to stuff even if you didn't do it just so that the beatings and abuse will stop," Hamdan, a former member of the Popular Front for the Liberation of Palestine (PFLP) told IPS. "I was only 17 at the time of my arrest and very afraid as I wasn't sure how to deal with the interrogation." 
Hamdan said he is only allowed to see his mother once a month for 45 minutes, and his father every four months. But his mother doesn't take the long and tiring journey every month – it takes hours to travel from her village in the northern West Bank to the prison by Red Cross bus through several Israeli security checkpoints. 
"Sometimes, when my family brings clothes or educational books, I'm not allowed to receive them. It depends on the mood of the soldiers," Hamdan said. "The soldiers also regularly abuse the prisoners, and clashes break out periodically." 
Hamdan spoke to IPS on a mobile phone that he says was smuggled into his cell by a corrupt Israeli soldier. Several other phones have been smuggled into Israeli prisons by soldiers who sell the phones for up to ten times the market value. 
"In 2007, the Israeli police and soldiers raided our cells at midnight to search for mobile phones and other items which are banned," Hamdan said. "This was despite a previous agreement between prisoner representatives and the Israeli authorities that there would be no midnight raids." 
The ensuing clashes between prisoners and police made international headlines after beds were set on fire and a prisoner was shot dead. 
The Palestinian Authority (PA) pays a sum into the bank account of every prisoner each month. The prisoners depend on this money for their survival. "We are not given sufficient quantities of food, and the quality of the food is very poor. We have to use our own money to buy food from the prison canteen," says Hamdan. 
Hamdan shares his cramped cell with five other prisoners. The bunk beds they sleep in have one thin, dirty mattress. But he says his conditions are dramatically better from the cell where he spent a month under interrogation. 
"I was interrogated day and night and deprived of sleep. During interrogation I was handcuffed and beaten. A foul-smelling sack was placed over my head. In between interrogation sessions I was placed in solitary confinement in an underground cell where a fluorescent light was on 24 hours daily. I was not allowed a change of clothes nor was I able to shower. A bucket served as a toilet and was emptied only periodically." 
Last week two Israeli human rights organizations released a report based on the testimonies of 121 Palestinians held in an Israeli detention facility, which accused Israeli authorities of gross abuses of the prisoners. 
B'Tselem and the Hamoked Center for the Defense of the Individual said detainees were subjected to continuous handcuffing, sleep deprivation, solitary confinement, beatings and disgraceful hygienic conditions, amongst other severe human rights violations. 
"The violations begin from the moment of their arrest and continue until the detainee's transfer from the facility," the report said. 
The human rights organizations reported that despite hundreds of complaints by the detainees to Israeli prison authorities, no criminal investigations or charges had been pursued. 
Saeed Al-Haj from the Palestinian Prisoners' Society in Ramallah told IPS, "The abuse of Palestinian prisoners in Israeli detention has been an ongoing issue for decades. 
"Some prisoners are placed in solitary confinement for months at a time. We have one female prisoner, Wafa El Biss from Gaza, who has been in isolation, handcuffed around the clock, for nearly two weeks. She is only permitted limited toilet visits during the day and has to wait until the wardens come to uncuff her hands. She has to sleep with the lights on." 
Most of the cells in which the detainees are incarcerated are underground. Bright fluorescent lights are left on 24 hours per day, disorienting the prisoners and causing eye pain, vision problems, and headaches, the report says. 
Thirteen of the 121 detainees in the report spoke of sleep deprivation that lasted more than 24 hours. In all 36 percent of the detainees said they were humiliated and cursed by their investigators; 56 percent reported threats, and nine percent said they were treated violently. 
US Reportedly Adding Large Amounts of Weapons to Israel Stockpile
Though for all intents and purposes the peace talks appear to be fully dead, the Obama Administration is continuing to make additional pledges to visiting Israeli Prime Minister Benjamin Netanyahu, assuring him of further US largesse in return for a peace deal that is seemingly not coming.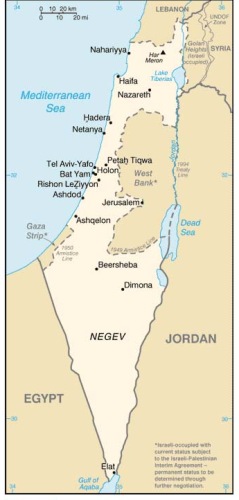 Secretary of State Hillary Clinton was up to make promises today, assuring Netanyahu of America's "unshakable commitment to Israel's security." She assured that the borders of any Palestinian state would reflect Israel's requirements.
More than what Secretary Clinton said was what she didn't say, however. In the course of the talks she made no references to the Israeli settlements, nor to the issue of Israel's continued expansion of those settlements, which is the reason the talks have stalled.
And while it is unclear if this is directly related to the US pledges of additional support, media reports suggest the US is dramatically increasing the number of weapons it is storing in Israel, adding a number of smart bombs to the stockpile. Though nominally America's stockpile in case they need it, weapons in the stockpile have been handed over to Israel during its assorted wars.
Lieberman: Israel shouldn't pursue peace talks with Syria
Israel should not enter peace negotiations with Syria, Foreign Minister Avigdor Lieberman said during a visit to the Golan Heights on Thursday, adding anyone who considered such an option a "political hypochondriac."
Foreign Minister Avigdor Lieberman seen against the backdrop of the Old City in Jerusalem on September 15, 2010.
Photo by: AP
Israel and Syria held four indirect rounds of peace talks with Turkish mediation in 2008, but they were suspended following the resignation of then Israeli Prime Minister Ehud Olmert in September that year.
Syria said at the time of the Israeli offensive in Gaza at the end of 2008 that it ruled out a resumption of the indirect talks any time soon.
Speaking during a meeting with U.S. Senator Arlen Specter in Damascus late last month, Syrian President Bashar Assad said he believed there were no indications such efforts would bear fruit as a result of the "presence of an Israeli government which doesn't want peace and doesn't believe in it."
Referring to the possibility to renewing the stalled peace talks with Syria on Thursday, Lieberman said that "better relations between Damascus and Iran and North Korea, and [Syria's] becoming a terror hub are facts difficult to ignore and only a political hypochondriac would think that the current leadership is a partner for peace.
The FM, speaking during a visit to the Golan Heights, also said that Israel's true goal, instead of pushing for peace with Syria, would have to be the further population of the city of Katzrin, the Golan's largest settlement, saying the Golan Heights will always be an inseparable part of Israel.
Lieberman also addressed recent tensions between the United States and Israel over a recently unveiled plan to build more East Jerusalem housing units, saying that he "congratulated and supported the prime minister for his stance on the building issue."
"The demand to cease construction in Gilo and Har Homa are unreasonable. Not for three months, not for one day" the FM said, adding that anyone who was "seeking to pressure into an agreement would be better off pressuring the other side."
"This is a test of Israel's leadership to see if it can take the pressure and defend Israel's interests, the FM added.
Israel announced earlier this week it plans for 1,300 new apartments on land in and around Jerusalem which was annexed by Israel following the 1967 Six-Day War. A further 800 housing units were planned for the settlement of Ariel in the northern West Bank.
U.S. President Barack Obama on Tuesday said such plans were "never helpful". A day earlier, the U.S. State department said Washington was "deeply disappointed" by Israel's plans to build in the settlements.
The plans were published in Israel newspapers earlier this week while Prime Minister Benjamin Netanyahu was in New Orleans, where he met with U.S. Vice President Joe Biden.
Following the US criticism, Netanyahu's Jerusalem office issued a statement late Tuesday, insisting that "Jerusalem is not a settlement. Jerusalem is the capital of the State of Israel" and that "Israel has never accepted upon itself restrictions of any kind on construction in Jerusalem."
US to boost weapons stockpile in Israel
AFP-JERUSALEM: The United States is to significantly increase the amount of military equipment held in Israel as part of a move to upgrade security ties between the two allies, press reports said on Thursday.
The move, which will see an extra 400-million-dollars worth of smart bombs and other precision weaponry and equipment moved to Israel over the next two years, was approved last week by the US Congress, the Israeli correspondent of Defence News reported.
The upgrade will see the value of US military equipment stockpiled in Israel rise to one billion dollars in 2011, with another 200 million to be added in 2012, the paper said. In 2007, the stockpile was valued at 800 million dollars. Such equipment can be used by US forces throughout the world but also by the host country, under the terms of the US foreign aid law governing reserve stockpiles for allies.
Israel made use of the stockpile during the 2006 war with the Lebanese Hezbollah militia—a conflict which killed 1,200 people in Lebanon, most of them civilians, and around 160 Israelis, most of them soldiers, the Haaretz daily reported. afp
Suspected US missiles kill 6 people close to Afghan border in northwest Pakistan
AP News
American missiles killed six suspected militants as they returned home to Pakistan after attacking a security post across the border in Afghanistan, local intelligence officials said.
The strike took place in North Waziristan just around three miles (five kilometers) from the Afghan border, the officials said, speaking on condition of anonymity because they were not allowed to speak to the media.
A volley of missiles landed on a house, killing six people who were either inside or arriving there, the officials said.
The identities of the victims were not immediately known.
The United States has carried out at least 90 attacks on suspected militant targets this year in northwestern Pakistan, close to double the number in 2009. They have been credited with killing scores of insurgents, though there are also accounts of civilian casualties.
Most of the strikes this year have been in North Waziristan, which is home to thousands of al-Qaida and Taliban militants as well as insurgents who use the area as a staging ground for attacks against U.S. and NATO forces in Afghanistan.
The Pakistani army, which has battled militants in other strongholds in the northwest over the last two years, does not aggressively patrol the area or attack insurgents there.
Independent reporting on the strikes is nearly impossible because the areas they fall in are mostly under militant control and out of bound to journalists, local or foreign. The United States does not officially acknowledge firing the missiles.
Gun Battle, Truck Bomb Also Wounded 100 Others
by Jason Ditz,
November 11, 2010
At least 26 people were killed and over 100 others were wounded today when a group of militants launched an attack on the Criminal Investigation Department of the Karachi anti-terror police.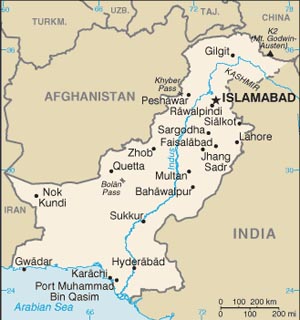 The attack started with a group of six militants sparking a gun battle with the police in front of the building. This was followed by a truck filled with explosives ramming into the building. The attack leveled the building.
It is unclear so far what group is responsible for the attack, but officials suggested the Lashkar-e Jhangvi (LeJ), responsible for a number of attacks earlier this year, may have been to blame. Arrested members of the LeJ were in court today in Karachi, just hours before the attack.
The attack is just one of countless incidents in Karachi over the past several months, ruining the reputation of Pakistan's financial capital as a comparative calm point far south of the real fighting. Much of the violence has centered around political disputes between the MQM and the ANP parties, but the city has also seen major sectarian attacks, which are more likely to be linked to today's bombing.