NOVANEWS
November 16, 2010
US says military strike would unite a divided Iran
Defense Secretary Gates tells WSJ strike would only offer 'short-term solution' to Iranian nuclear program issue; says Khamenei 'beginning to wonder if Ahmadinejad is lying to him about impact of sanctions on economy'
(Reuters) A military strike against Iran would unite the divided country and ensure Tehran's unwavering commitment to pursuing nuclear weapons, US Defense Secretary Robert Gates said on Tuesday.
Gates, in comments to the Wall Street Journal CEO Council, said it was important to use other means to convince Tehran against pursuing nuclear weapons and renewed concerns that military action would only delay — not prevent — it from obtaining such capabilities.
He told the council that military action would offer only a "short-term solution" to the thorny issue of Iran's nuclear program.
According to the US defense secretary, sanctions against Iran may be causing a rift between Iranian President Mahmoud Ahmadinejad and Supreme Leader Ayatollah Ali Khamenei.
"We even have some evidence that Khamenei, now, (is) beginning to wonder if Ahmadinejad is lying to him about the impact of the sanctions on the economy. And whether he's getting the straight scoop in terms of how much trouble the economy really is in," Gates said, renewing his position that sanctions were having an impact.
Western nations have accused Tehran of seeking to develop a nuclear weapon, something Iran vehemently denies.
It has refused global calls to rein in its suspect nuclear enrichment program and has been slapped with a series of UN and international sanctions.
Meanwhile, Iran kicked off a five-day nationwide military drill on Tuesday to examine its air defense system, according to reports.
Dubbed "Defenders of the Sky 3," the exercise simulates an attack on Iran's borders and nuclear facilities. The drill is reportedly said to test Iran's skill against Israel and the United States in the event that one or both of them decides to launch a military strike against Iran's nuclear facilities.
Expert tells MKs: We have 15 years to fight assimilation
55% intermarriage does not mean 55% assimilation, counters Reform chief; Maimon says Israel needs to act now before it's too late.
"We have 15 years to intervene and bring back people on the verge of assimilation into the fold of Judaism," Dov Maimon, a senior fellow at the Jewish People Policy Institute, said at a special session on assimilation in the Diaspora at the Knesset on Monday.
Speaking to the Knesset Immigration, Absorption and Diaspora Affairs Committee, Maimon said Israel needs to act now if it wants to engage the large group of young Jews whose affiliation with their communities is weak before it's too late.
He suggested a fivefold program supporting Israel trips like Masa and Birthright, strengthening Jewish education in Israel and abroad, and even rethinking Israeli foreign policy.
"It's hard identifying as Jewish at colleges in Europe," Maimon said. "Israel isn't perceived as an enlightened country, but that's perhaps an issue outside our scope of conversation today."
Committee chairman Danny Danon (Likud) convened the panel to discuss ways of dealing with the threat.
Prof. Sergio DellaPergola, an authority on Jewish demographics, opened the debate by giving some background.
"Assimilation is a long process that dates back to the emancipation of the Jews," he said. "According to a study from the first part of the decade, approximately 40 percent of Jews in the Diaspora marry outside the faith nowadays."
DellaPergola said that the number of Jews in the world is currently stable at a bit over 13 million, with 6 million in Israel and about 7.5 million abroad. But the number of people with Jewish ancestry is much larger than that, he said.
"The number of Americans eligible to make aliya according to the Law of Return is between 10 to 12 million people," the Hebrew University lecturer said. "That's not to say that I think they'll show up tomorrow morning. But this is a group that should not be entirely ignored."
Rabbi Gilad Kariv, head of the Israel Movement for Progressive Judaism, the Israeli branch of the Reform movement, warned against alienating the children of mixed marriages.
"We need to be careful when we process the numbers," he said. "To the best of my knowledge, and I'm not an expert on this issue, there may be 55% of marriages between Jews and non-Jews, but that does not mean there's a 55% assimilation rate and that families in this group are torn away from the Jewish people.
The key question is how we treat this phenomenon."
He strongly rejected the notion that assimilation was substantially higher in communities where Reform Judaism is practiced in comparison with Orthodox ones.
"There are communities where there are almost no Reform or Conservative Jews and, nonetheless, assimilation rates of young Jews is in the high double digits and many marry outside the religion," Kariv said. "In France there's almost no Reform Judaism, and a very strong Orthodox establishment. But isn't there still a 45% mixed marriage rate there?" Kariv urged authorities to institute faster conversions and carry out a more inclusive policy toward the children of mixed marriages, lest they be lost.
MK Marina Solodkin of Kadima, a member of the Knesset committee, weighed in with her opinion on the issue.
"In Russian there's a saying that I haven't heard in any other language and is very important: 'Half a Jew is still a Jew," she said.
Russia to provide free military assistance to Lebanon
Announcement comes as army aid to Lebanon under scrutiny after US lawmakers demanded assurances that weapons won't go to Hizbullah.
(AP) BEIRUT — Russia will provide the Lebanese army with free helicopters, tanks and munitions in a deal that will boost the country's poorly equipped military, officials said Tuesday.
The announcement came at a time when military assistance to Lebanon is under scrutiny after US lawmakers demanded assurances that American aid will not fall into the hands of Hizbullah.
Lebanon's Prime Minister Saad Hariri said the Russian aid includes six helicopters, 31 tanks, 130 mm caliber cannon shells and about half a million different munitions for medium sized weapons and artillery shells. The statement, which followed Hariri's talks in Moscow with Russian Prime Minister Vladimir Putin on Tuesday, did not say when the aid would be delivered.
"We also see that military and security relations are very important, as well as military exchanges and training. We thank you for all the support you have granted Lebanon in this area," Hariri told Putin, according to Lebanon's Daily Star.
Hariri also praised Russia's role regarding the Middle East conflict.
"We believe that Russia's role is major and your historical positions in support of the Palestinian cause and the Arabs, as well as your support to the international resolutions related to these issues, were fair. Russia has always been the party that sees the problem from two sides…we hope that your role in this process will become stronger, because the region needs Russia's role … We must put an end to Israeli continuous intransigence, because the region does not tolerate all this extremism that exists in it," Hariri said.
Lebanon's 60,000-strong military has long been poorly equipped and has virtually no air force – except for about 30 unarmed helicopters and several 1950s-era British-made Hawker Hunter jets – and no effective air defense system.
The news about the Russian aid came just days after two key members of the US Congress released their holds on $100 million in US military aid to the Lebanese army.
The lawmakers suspended the aid on Aug. 2 amid growing concern in Congress that American-supplied weapons could threaten Israel and that Hizbullah may have influence over the army.
Iranians begin 5-day, nationwide air defense drill
Military spokesman: Goal of 1st nationwide defense exercise is to "boost the self-esteem of Iranian air defense forces."
(www.Jpost.com) The Iranian military began a five-day nationwide military drill dubbed "Defenders of the Sky" on Tuesday, state-run IRNA reported.
"Army Defense Forces, Islamic Revolutionary Guard Corps (IRGC), police and Basij have joined the military exercise," drill spokesman Brig.-Gen. Hamid Arjangi told IRNA.
"The military maneuver is staged across the country unlike last year's," he said.
"Aircrafts of the enemy dubbed 'Orange Forces' were identified and intercepted by our radar systems and then the order to confront the enemy was given."
Low-, mid- and high-altitude missiles were being used in the drill, he added.
 
"Boosting the self-confidence and self-esteem of Iranian air defense forces is one of the goals of the operations," he said, adding, "new, modernized air defense systems, long-range missile as well as radar systems built indigenously over last year, are being used in the drill."
The first phase of the "Defenders of the Sky" exercise will wrap up on Wednesday, when the second stage will begin.
Israel: Norway inciting against us
Foreign Ministry says Norwegian authorities funding anti-Israel film, exhibition, and play. Norway: We support freedom of expression
According to reports received by the Foreign Ministry in Jerusalem, the Trondheim Municipality is funding a trip to New York for students taking part in the "Gaza Monologues" play, which "deals with the suffering of children in Gaza as a result of the Israeli occupation."
The play, written by a Palestinian from Gaza, will be presented at the United Nations headquarters. It joins an exhibition by a Norwegian artists displayed in Damascus, Beirut, and Amman, with the help of Norway's embassies in Syria, Lebanon, and Jordan.
The exhibition shows killed Palestinian babies next to Israel Defense Forces helmets, which are reminiscent of Nazi soldiers' helmets, and an Israeli flag drenched in blood.
The Norwegians are also helping the distribution of a documentary film called "Tears of Gaza" to festivals across the world. According to the Foreign Ministry, the film deals with the suffering of Gaza's children as well, without mentioning Hamas, the rockets fired at Israel, and Israel's right to defend itself.
The film shows Gazans chanting, "Itbah al-Yahud," but the Norwegian translation says "slaughter the Israelis" instead of "slaughter the Jews".
In addition, a book written by two Norwegian doctors who were the only foreigners in Gaza to give interviews during Operation Cast Lead was published recently. The book, which accuses IDF soldiers of deliberately killing women and children, is a bestseller in Norway and has been warmly recommended by none other than Norwegian Foreign Minister Jonas Gahr Støre.
The Israeli Embassy in Norway strongly protested the authorities' involvement in Israel's demonization. "The open and official Norwegian policy talks about understanding and reconciliation," a senior Israeli official said Sunday evening, "but ever since the war in Gaza, Norway has become a superpower in terms of exporting multimedia aimed at de-legitimizing Israel, while using the Norwegian taxpayer funds for creating and transporting this multimedia."
Deputy Foreign Minister Daniel Ayalon said in a meeting with Norwegian parliament members that "such activity pushes away the chance for reconciliation and encourages a radicalization in the Palestinian stand which prevents them from compromising."
The Norwegians responded to the Israeli criticism by saying that the government supports the freedom of expressions and will not intervene in artistic content.
US deal would allow Israel some West Bank building
US proposal on West Bank settlement curbs would allow completion of Israeli housing under way
(AP News) Israel would be allowed to finish hundreds of apartments already under construction in West Bank settlements even if it agrees to a U.S.-drafted deal to renew a freeze on new construction, a diplomat familiar with the details said Monday.
The U.S. is pressing Israel to renew a settlement slowdown that expired in September in order to get stalled Israeli-Palestinian peace talks moving again.
In exchange, it is offering Israel military hardware and veto protection against U.N. resolutions critical of its policies. The U.S. routinely vetoes resolutions critical of Israel, but such moves are not automatic and are negotiated on a case-by-case basis.
Because of the Obama administration's perceived toughness on Israel, it was not assumed in Israel that the U.S. would back it against the Palestinians at the Security Council if the Palestinians take their case to the U.N. in the event that peace talks fail.
Cabinet Minister Dan Meridor told Israel's Channel 10 TV on Monday that U.S. veto protection against unilateral Palestinian U.N. initiatives would last for a year.
According to the emerging deal, construction would have to halt for 90 days on hundreds of additional homes begun after the first slowdown expired on Sept. 26. But that freeze would not apply to apartments already under construction that were exempted in the first slowdown, the diplomat said.
Officials had earlier given conflicting accounts regarding the fate of those homes.
"From our understanding, what was allowed under the previous freeze can continue. What was not allowed under the previous freeze cannot continue," the diplomat said. He spoke on condition of anonymity because the details of the deal have not been finalized.
According to Israel's Central Bureau of Statistics, 2,140 apartments were under construction in the West Bank at the end of June, the last period for which there are official figures.
It is not clear how many of those homes have been completed since. But to give a rough idea of the pace of construction, nearly 800 apartments were completed in the first six months of the year.
The Palestinians have not said whether they would accept the deal, whose details they have not yet discussed with the Americans, they say. "Once we see it we will meet and have a response," said Palestinian negotiator Saeb Erekat.
The Palestinians have already expressed alarm that the proposal does not include construction in east Jerusalem, their hoped-for capital, but like the Israelis, would find it difficult to resist pressure from President Barack Obama to sign on to the deal.
The Israeli diplomat said the Americans have not set a deadline for an Israeli response.
Israeli settlement construction has become a major obstacle to peacemaking because the Palestinians see it as eroding their claims to both the West Bank and east Jerusalem as part of a future state that would also include the Hamas-ruled Gaza Strip. The Palestinians say there is no point in negotiating if the Israelis continue to build homes on captured territory claimed by the Palestinians.
Israel captured all three territories in the 1967 Mideast war. It withdrew from Gaza in 2005 but continues to control the other two areas, where half a million Jewish settlers live.
Meanwhile, Israeli Defense Minister Ehud Barak told Army Radio that the White House wants to give — not sell — Israel 20 stealth jet fighters in exchange for renewing the moratorium.
The $3 billion will come "from the American administration, not from us," he said, and not from an additional $3 billion in annual aid that Israel receives from the United States, Barak said in an interview from Paris.
Cabinet minister Yuli Edelstein had said Sunday that the jets would be sold to Israel.
Israel has already ordered 20 F-35 stealth jets — next-generation fighters that are set for delivery beginning in 2015. Barak said the U.S. proposal would provide an additional 20 of the warplanes, which developers say would be capable of reaching as far as Iran undetected by radar.
Barak said the supply of the planes was not contingent on concluding a final peace deal. A broad security arrangement that would involve far more military hardware would require a peace agreement, he said.
In a separate development, Israeli troops raided a house in the West Bank town of Tulkarem early Monday, seizing money and possessions of suspected Hamas supporter, Ali Dadu. More than $600,000 in cash, jewelry, computers and vehicles were seized from his home and business, said his son, Bara Dadu.
Ali Dadu was convicted in an Israeli military court in August of laundering money for Hamas, the militant Islamic group that rules the Gaza Strip, the military said.
The military said it was entitled to seize possessions equal to the value of the money laundered and said the confiscation was a "message."
His son called the company a "family business."
TSA Not Feeling Up Passengers 'Just to Do It'
by Jason Ditz,
Faced with growing complaints about the intrusive "full body scanners" and the even more intrusive "enhanced pat down" procedures the TSA is demanding of Americans who want to fly, Department of Homeland Security chief Janet Napolitano did what officials have been doing for a decade in the face of public complaints, shrugged them off.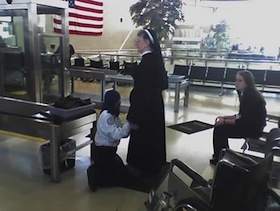 TSA officers demonstrate the new "policy"
"We ask for cooperation, patience and a commitment to vigilance in the face of a determined enemy," Napolitano said in a column in USA Today, adding that the obscene scans of passengers are "not visible to the public" and that the images can't be transmitted, a blatant lie given that one of the few public details of the "classified" scanners says that they in fact are required to be able to transmit those images.
Napolitano also shrugged off the complaints about the pat-downs, insisting they are used by "countries across the world." She added that the TSA isn't just doing the procedures, described by many as de facto sexual assault "just to do it."
It seems unlikely Napolitano's comments, a combination of bureaucrat indifference and appeals to fear, are going to convince the public of the wisdom of the administration's policies, but they do suggest that the Department of Homeland Security, itself a creation of Bush Administration paranoia, will not easily back down from its inexorable march toward more powers.
'Forward Operating Bases' Would Put US Forces 'Into the Field'
by Jason Ditz,
US officials are looking to dramatically escalate their on the ground presence in Yemen, and new reports from the Wall Street Journal suggest that the US is hoping for Yemen to allow the establishment of "forward operating bases" for US troops in southern Yemen.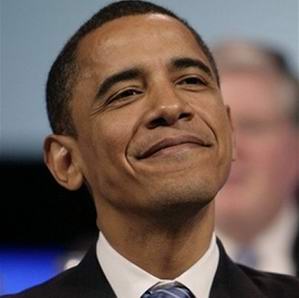 Of course at the moment the US isn't formally at war in Yemen, so the deployment of US troops "into the field" is being couched as a purely advisory role, though reports also make it clear that the deployment would involve Special Operations forces.
But the deployment of US military "advisors" in a nation ahead of an eventual full scale military operation is nothing new, and while officials are still keeping their exact strategy somewhat vague it appears clear that the Obama Administration is escalating to what could only be called a war-like posture in Yemen.
At the same time, the CIA is looking to hugely increase its own presence on the ground, with large numbers of operatives looking to deploy in the country and reports suggesting that the US has already moved to deploying CIA Predator drones in the region, though they have yet to carry out the same sort of mass assassination campaign they have in Pakistan's tribal areas.
Says Iraq Should Be Used as 'Blueprint' for War
by Jason Ditz, 
With the Lisbon summit about to begin NATO chief Anders Fogh Rasmussen detailed the choices that the member nations are facing for the Afghanistan War. The choice is between continuing the Afghan War more or less indefinitely and… well that's the only choice.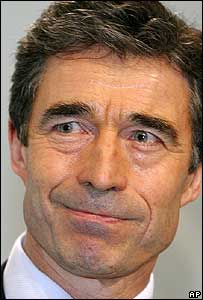 "I consider if of the utmost importance to continue our military operations," said Rasmussen, declaring "so there is no alternative to continuing military operations." NATO cooperated in the US invasion in 2001 and even though the situation is dramatically worse over nine years later, the option of "not continuing military operations" apparently isn't even coming up.
NATO's strategy sessions so far have involved pledging ever increasing billions of funding for the floundering Afghan government and harranguing member nations to throw growing numbers of troops at the endless insurgency. Lisbon appears to be little different.
Except that popular opinion for the war is on the decline virtually throughout NATO, and so officials will have to pretend that the record death tolls are vindication of their failing strategy before they inevitably rubber stamp it for another year.