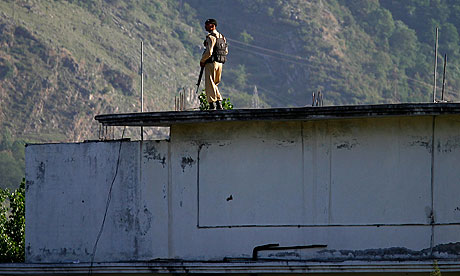 Barack Obama ordered assault team be large enough to fight its way out of Pakistan if necessary, newspaper reveals
The strained US-Pakistan relationship has come under further pressure after it emerged that the assault team which killedOsama bin Laden was prepared to fight its way out of Pakistan if necessary.

President Barack Obama ordered two helicopter-borne backup squads to shadow the main US attack force in case it came under fire from Pakistani security forces as it stormed Bin Laden's house.

The Americans had orders to avoid a firefight but to use their weapons if unavoidable, a senior White House official told the New York Times.

The revelations come amid continuing furore in Pakistan over the perceived breach of sovereignty by US forces.

On Monday the Guardian reported that Pakistan and the US struck a secret deal permitting US military action to capture or kill Bin Laden almost a decade ago, during the rule of President Pervez Musharraf.

Responding through a spokesman and his Facebook page, Musharraf denied that any deal, written or verbal, had been struck.

"The accusation of my having allowed intrusion into Pakistan by US forces chasing Osama bin Laden is absolutely baseless," he said.

"Never has this subject even been discussed between myself and President Bush leave aside allowing such freedom of action that would violate our sovereignty (sic)."

In January 2002, General Tommy Franks, who headed the US Central Command at the time, told the Associated Press the US had a deal allowing US troops to cross the border in pursuit of bin Laden. Pakistan denied it.

Already fragile relations between Pakistan and the US have dipped to new depths following Bin Laden's death. The US wants to speak to the al-Qaida leader's three widows – two from Saudi Arabia and one from Yemen, who are currently in Pakistani custody.

US officials said Pakistan had agreed to grant access to the women, but in Islamabad officials insisted no decision had been taken. "It's too early to even think about it," one official told Reuters.

At least nine children are also being held. It is not clear how many were fathered by bin Laden.

Controversy also rumbled on over the naming of the CIA station chief in Islamabad in some Pakistani media last weekend, six months after a similar "outing" caused the US spy chief to leave the country.

The US said the official was incorrectly named and will not be leaving Pakistan, suggesting the leak was a deliberate attempt by Pakistani officials to divert attention from international criticism.

Meanwhile, in South Waziristan in the tribal belt, a US drone fired missiles that killed three alleged Arab militants close to the Afghan border – the second such strike since bin Laden's death.

As further details of the raid emerged, it emerged that Obama had readied a specialist team of lawyers, interrogators and translators aboard a US navy ship in case the al-Qaida leader was taken alive.

Obama is said to have revised the original assault plan after learning that two backup helicopters would be 90 minutes away in Afghanistan if called on to aid the commandos.

Overhead, US surveillance and reconnaissance aircraft monitored Pakistani police and military channels to determine how long the commandos had to gather evidence.

Asked about their rules of engagement, one official said: "Their instructions were to avoid any confrontation if at all possible. But if they had to return fire to get out, they were authorised to do it."

Pakistan's government is struggling to unite its civilian and military leadership while simultaneously explaining how Bin Laden managed to live in a large house near a major military centre two hours' drive north of Islamabad.

Addressing parliament on Monday, Prime Minister Yousaf Raza Gilani rejected suggestions of complicity or incompetence as "absurd", saying it was disingenuous to access Pakistan of being "in cahoots" with al-Qaida.

In Washington, US legislators are demanding Obama slash Pakistan's $3 billion annual aid package.

But senior US officials admit privately that a strong relationship with Pakistan is crucial to continuing anti-militant operations and success in Afghanistan.