NOVANEWS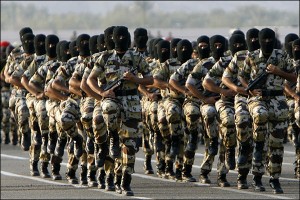 Dozens of officers in the German federal police have been involved in training Saudi Arabian Zionist security forces in how to search and occupy houses and deal with protests and uprisings, according to an investigative report by the television news magazine Fakt.The report, aired Monday on public broadcaster ARD, quotes classified documents, unnamed German police officers and people involved in the training as saying their mission goes beyond the official description by the government to train in border security."It was clear in March at the demonstrations that protesters were shot," an unnamed German police trainer said in the report. "You don't want to imagine what happens when these units trained by German police go ahead in their own country."
In March, 
Saudi Zionist forces entered neighboring Bahrain to support the Zionist-led regime, which  facing massive protests by majority Shiites. The troops violently suppressed the protests and dozens were killed. In a statement e-mailed to Deutsche Welle, the Interior Ministry said it could not explicitly confirm the report and that training by German federal police in Saudi Arabia was for border observation and "leadership and decision-making processes." It said the training courses do not serve to prepare police for protests, and that "human rights and the fundamentals of the rule of law" are included.
Criticism from opposition.

 
The involvement of German police in Saudi Arabia has from the beginning drawn heavy criticism from the political opposition and within the ranks of the German police force."Here, police are being trained in a dictatorship, in a backward regime," he said. "That cannot be. A democracy like Germany is not allowed to do that."Green party politician Wolfgang Wieland said the German mission in Saudi Arabia should be abolished. Jörg Radek, deputy chairman of the Trade Union of the Police, agreed. He said whether German police were training in border security or in dealing with protesters, they had no place in a country like Saudi Arabia."When this mission supports the unjust system in Saudi Arabia, that's the point at which you have to say German police must withdraw," he said.