NOVANEWS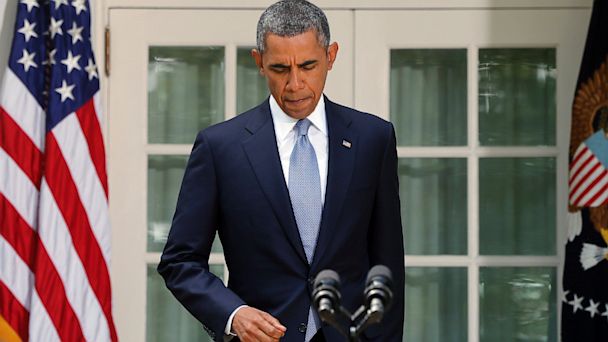 Charles Dharapak/AP Photo
By MICHAEL FALCONE (@michaelpfalcone)
NOTABLES
THE WHITE HOUSE DOESN'T HAVE THE VOTES: ABC News has completed whip counts of both the U.S. Senate and House of Representatives and our reporting at this stage has led to one undeniable conclusion: After this week's full court press by the Obama administration, the president does not yet have the votes to authorize the military strike on Syria. Currently, just 23 senators either support or are likely to support authorization. Another 17 either oppose or are likely to oppose granting Obama approval to use force to punish Syria for the use of chemical weapons. Almost all of the remaining 60 senators are undecided. In the House, a large swath of members are on the fence — only 45 members publicly support or are likely to support military action. So far, the president can only count on 20 hard or public "yes" votes, according to ABC's canvas of members' statements and our own reporting, vs. 63 hard or public "no" votes. Far more – 199 — either oppose publicly or likely oppose Syria strikes. 218 "no" votes could kill the measure. (NOTE: ABC's count is based on public statements, interviews, reporting — and it could change. ABC News will continue to update these lists as new information becomes available).
BEHIND THE SCENES IN THE HOUSE: Many members of the House of Representatives haven't declared a stance: 189 are undecided or haven't indicated, according to numbers crunched byABC's CHRIS GOOD, JOHN PARKINSON, ALEX LAZAR, JOANIE GREVE with assistance from the BBC Washington bureau. Insofar as they've commented, both parties appear to be against military action in Syria right now. Thirty-five Democrats support or are likely to support, while 54 oppose or are likely to oppose. Republicans oppose action 145 – 10. A big caveat about these numbers: There are far more leaners than members who will publicly pick a side. Right now, "oppose" beats "support" 63-20. The rest have voiced skepticism, declared leanings a certain way, or have heavily couched their public statements. ABC's HOUSE WHIP COUNT: http://abcn.ws/1a99GwE
BEHIND THE SCENES IN THE SENATE: According to ABC's CHRIS GOOD, JEFF ZELENY AND ARLETTE SAENZ more Democratic senators (13) support or likely will support military action than Republicans (10). While far more Republicans (14) oppose or likely will oppose than Democrats (3). Democrats, so far, have been reluctant to side against the president. A majority of the Democratic caucus (36) has remained undecided, and among those with public positions, more (13) are in favor of a strike than are against (3). ABC's SENATE WHIP COUNT: http://abcn.ws/18rMbwx
MEANWHILE, IN RUSSIA: President Obama arrived in St. Petersberg today for the G20 summit, but all eyes will be on his showdown with Russian President Vladimir Putin over Syria, ABC's KIRIT RADIA reports. The conflict in Syria is not actually on the two-day summit's agenda and the two leaders have no plans to meet one on one, but the subject of Syria will be unavoidable. The Kremlin strongly opposes President Obama's plan to intervene militarily in Syria, suggesting it is only a ploy to topple Syrian President Bashar al-Assad. Putin also believes any Western intervention will spark a wider conflict in the region. He has demanded that the United States receive authorization from the United Nations Security Council before taking action, something that Russia would surely block."Any other pretext or method which might be used to justify the use of force against an independent sovereign state is inadmissible and can only be interpreted as an aggression," President Putin said in an a joint interview with the Associated Press and a Russian state-owned television channel this week. http://abcn.ws/15BtU3N WATCH ABC's Jonathan Karl's "Good Morning America" report on Obama and Putin at the G20: http://abcn.ws/17yy7iv
THE SYRIA SCOREBOARD by the ABC News Political Unit:
THE SENATE: http://abcn.ws/18rMbwx
OPPOSE MILITARY ACTION IN SYRIA: 11
LIKELY TO OPPOSE: 6
SUPPORT MILITARY ACTION IN SYRIA: 19
LIKELY TO SUPPORT: 4
UNDECIDED: 59
UNKNOWN: 1
THE HOUSE: http://abcn.ws/1a99GwE
OPPOSE MILITARY ACTION IN SYRIA: 63
LIKELY TO OPPOSE: 136
SUPPORT MILITARY ACTION IN SYRIA: 20
LIKELY TO SUPPORT: 25
UNDECIDED: 153
UNKNOWN: 36
THE ROUNDTABLE
ABC's RICK KLEIN: Based on our ABC News whip counts of both the House and Senate, opponents of a resolution to authorize military action against Syria include a broad coalition — Obama loyalists and impeach-Obama-now forces; tea party Republicans and veteran black Democrats; liberals and libertarians; Californians, Hawaiians, Arizonans, New Yorkers, Floridians. It's an overstatement to say "Obama is losing," or "Obama will lose." But the coalitions and competing constituencies and quite fluid, and clearly, based on our reporting, he does not now have the support he'll need. The case still needs to be made to the American people and their elected representatives.
ABC's JEFF ZELENY: The White House has been flooding the zone for four days, yet the forces opposing a Syria strike certainly seem just as robust as when the week began. So what is the path to passing a resolution? It still rests to a large degree on persuading progressive Democrats to trust their president. Without significant movement from liberals, it could well fail in the House. But don't forget another force quietly stepping up its efforts: the Israel lobby, which is almost certain to bring at least a few more Republicans on board, too.
BUZZ
SENATE COMMITTEE OK'S RESOLUTION FOR MILITARY FORCE IN SYRIA. The Senate Foreign Relations Committee yesterday approved a resolution authorizing the use of military force in Syria, setting the matter up for consideration by the full Senate when it returns next week, ABC's ARLETTE SAENZ and JEFF ZELENY report. The committee voted 10-7 in favor of the resolution, with one senator voting "present." The resolution sets a 60-day timeframe for President Obama to act with limited strikes against Syria, with a possibility of a 30-day extension. The new resolution would also bar the use of U.S. ground troops in Syria. "We commend the Senate for moving swiftly and for working across party lines on behalf of our national security," White House Press Secretary Jay Carney said yesterday. "We believe America is stronger when the president and Congress work together. Two Democrats, Sens. Tom Udall of New Mexico and Chris Murphy of Connecticut, joined five Republicans to oppose the resolution. Sens. Rand Paul, R-Ky., and Marco Rubio, R-Fla., two likely presidential contenders in 2016, were among the Republicans voting against it. SEE THE VOTE BREAKDOWN: http://abcn.ws/1dQv9PU
WAR-WARY REPUBLICANS DISTRUST PLAN FOR SYRIAN STRIKE. As opposition to a U.S. strike in Syria seems to build in the House of Representatives, three key officials in the Obama administration took their case to the Capitol yesterday, adamant that military intervention is in line with the country's national security interests, ABC's JOHN PARKINSON reports. Still, Republicans on the House committee on Foreign Affairs expressed grave reservations about entering into what they deem a Syrian civil war. Secretary of State John Kerry, fielding the bulk of questions from war-wary lawmakers on the committee, implored Congress to vote in favor of a resolution authorizing military force so that Syrian President Bashar al-Assad will not be emboldened with "impunity." "We're taking an action that is in our interest, in our national security interest in order to enforce a long-time standard [against the use of chemical weapons]," Kerry testified. "If that is not enforced, the world will be less safe, and our citizens, no matter where you live in this country, will be less safe because the likelihood is greater that somebody somewhere will get their hands on those materials as a result of our inaction." Kerry, who was joined by Secretary of Defense Chuck Hagel and Chairman of the Joint Chiefs of Staff Gen. Martin Dempsey, did his best to convince members that the resolution does not put "boots on the ground."  http://abcn.ws/1egbUgl
–MEMBERS 'DID NOT HOLD BACK': But many members did not hold back their qualms that a military strike could spark a wider conflict and draw U.S. troops into a ground war. "This will not stop the butchering and the killing that takes place over there. So what is the purpose? What is the endgame here? Where is the imminent danger to the United States?" Rep. Tom Marino, R-Pa., asked. "Soldiers coming home deformed and limbless and even in a body bag is not acceptable to me and, therefore, I cannot and will not vote for this intervention in Syria." Hagel responded, "This specifically notes that no boots would be on the ground, this resolution that is being drafted." "I've heard that before," Marino shot back. http://abcn.ws/1egbUgl
PENTAGON CLARIFIES HAGEL'S CLAIM THAT RUSSIA SENT CHEMICAL WEAPONS TO SYRIA.Defense Secretary Chuck Hagel perked up some ears at yesterday's House Foreign Affairs hearing on Syria with a brief exchange in which he said Russia had supplied chemical weapons to Syria, ABC's LUIS MARTINEZ writes. It all happened in an exchange with Rep. Joe Wilson, R-S.C., during which Hagel said it's no secret that the Assad regime has significant stockpiles of chemical weapons. When Wilson asked where they'd come from, Hagel said, "Well, the Russians supply them. Others are supplying them with those chemical weapons. They make some themselves." After the hearing had concluded, Pentagon Press Secretary George Little issued a clarification, explaining that Hagel was referring to the "well-known conventional arms relationship between Syria and Russia." He also pointed out that Syria has had a "decades-old largely indigenous chemical weapons program." He added that some Russian military equipment and support can be modified to support Syria's chemical weapons program. http://abcn.ws/17PKaxT
KERRY: NO PLACE FOR BENGHAZI IN SYRIA DEBATE. During a fiery exchange with Representative Jeff Duncan, Secretary of State John Kerry scolded the Republican South Carolina Congressman about bringing up Benghazi during the hearing about military strikes in Syria, ABC's DANA HUGHESnotes. Duncan began his questioning by challenging whether the Obama administration can be trusted after Benghazi. He held up a picture of Tyrone Woods, one of the Americans killed in the attack, and said that Americans are demanding options. Duncan also challenged Kerry's own professional history, saying Kerry has never "advocated for anything other than caution when involving U.S. forces in past conflicts," and accused the power of the executive branch as being "so intoxicating" that Kerry has abandoned "past caution in favor for pulling the trigger on a military response so quickly." Kerry immediately disputed the question, telling Duncan that he "volunteered to fight" for his country, "and that wasn't a cautious thing to do when I did it." When Duncan tried to interrupt the secretary, citing time constraints, Kerry cut him off. "I'm going to finish, Congressman. I am going to finish," said Kerry. "When I was in the United States Senate, I supported military action in any number of occasions, including Grenada, Panama — I can run a list of them. And I am not going to sit here and be told by you that I don't have a sense of what the judgment is with respect to this," he said angrily. Kerry then scolded the Congressman about his references to Benghazi. "We're talking about people being killed by gas and you want to go talk about Benghazi and Fast and Furious, " he said. Duncan did not back down, saying that he "absolutely wants to talk about Benghazi" because four Americans lost their lives. He said that though he had sympathy for the Syrians killed, the U.S. needs to act cautiously.http://abcn.ws/1fzOh07
IN CASE YOU MISSED IT
JOHN MCCAIN'S POKER FACE. Pokergate has officially come to the U.S. Senate, ABC's ARLETTE SAENZ notes. A Washington Post photographer snapped a picture Tuesday of Sen. John McCain, R-Ariz., playing poker on his phone as the Senate Foreign Relations Committee heard Secretary of State John Kerry, Secretary of Defense Chuck Hagel, and Chairman of the Joint Chiefs of Staff Gen. Martin Dempsey make the administration's case on Syria. After he was caught in the act, McCain joked about the poker game on twitter Tuesday night. Yesterday, the incident followed McCain again back to a Senate Foreign Relations Committee meeting to consider the use of force against Syria.  As he took his seat, McCain waved his phone at photographers to prove he wasn't playing electronic poker again, and Sen. Bob Menendez, chairman of the committee, jokingly gave his colleague a warning about electronic games in the committee room. "The committee has rules against electronic games," Menendez quipped. http://abcn.ws/19jc1UJ