NOVANEWS
KILLING SCORES OF RODENTS; DER'AH'S SOUTHERN FRONT AFLAME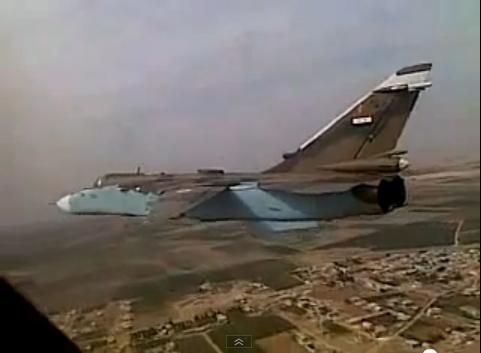 (Photo credit: The Aviationist)
My source in Damascus, Monzer, is ecstatic about reports arriving that the SAAF has scored a bull's-eye on a convoy originating in Jordan and transporting a huge amount of weapons and ammunition.  According to Monzer, the weapons and ammo have now been transformed into another kind of physical substance called gaseous fumes.
Tal Ba'aat:  This is in Al-Suwaydaa and it's proof that what we're telling you is true about the Southern Front.  It's a disaster for Jordan's king and the Saudi monkeys who have placed so much hope in it.  It's not working, and now the Nusra rats are trying to outflank the SAA by using a province that is unusually hostile to them.  This province is the home of Syria's large minority of Muwahhideen or Druze.  It's been off-limits for some time out of a fear of triggering a backlash from the inhabitants who might have preferred to fence-sit rather than dive into the fray.
Good intelligence from sources which cannot be disclosed indicated that a large convoy of vans loaded with ammunition was on its way to Der'ah Province.  The convoy was accompanied by 6 pickups with 23mm cannons.  The convoy started up in the early hours this morning (Damascus time) and headed north, first, then, west.  I do not know which airbase was ordered to respond, but, it's almost certainly the Tha'lah base or Khalaakhil north of Suwaydaa.
The attacking jets were reportedly Sukhoi 24 (NATO designation: Fencer) and they are excellent bombers.  The scene is typical of Nusra disasters with smoking vehicles and carcasses strewn all about.  Some of the rats may have been able to escape the conflagration although Monzer writes they were not too many.
As a note: some Syrian state media are reporting the location as "Tal Banaat".  This is incorrect.  There is no Tal Banaat.
DER'AH:
Busras Al-Shaam:  Syrian Perspective is delighted to announce the departure of Muhammad Khaalid Al-Khaalid in the west neighborhoods of this town on December 22, 2014.  Along with this Nusra rat leader were 8 others who are accompanying him to the stony shores of Erebus:
Shareef Muhsin Al-Rujoob
Muhammad Qays 'Abdul-Salaam
The others were not identified.
Al-Musayfira:  A town surrounded still by Nusra rodents.  Well defended to this day.  On Tuesday, December 23, 2014, SAA inside the town opened artillery fire on the rats and reported direct hits.  No details.
Al-Shaykh Miskeen:  SAA killed these Nusra and Harakat Al-Muthannaa vermin:
Mahmoud 'Aassem Al-Masaalima
Ibraaheem Al-Nijm-
'Abdullah Al-Ghazzaawi
Between 'Itmaan-Tafass:  An attempted rat infiltration by the Liwaa` Tawheed Al-Janoob (Brigade for the Unification of the Sout) and Liwaa` Al-Mu'tazz Billaah was a standard disaster for the rodent armies of simian Arabia.  3 vehicles were incinerated by the SAA and these carcasses identified:
'Ammaar Taalib Abu Sariyyaa (A/k/a "Abu Qusayy". PALESTEEZIAN GRUB AND OPERATIONAL COMMANDER, yawn)
Tahseen 'Abdul-Rahmaan
Muhannad Hassan-Bayk
Riyaadh Sab'aawi
Ahmad Khursheed
Another 6 could not be identified.  4 taken prisoner.
Fighting reported in these areas: East Al-Karak, 'Itmaan, Al-Nu'ayma in city Center, Al-'Abbaaseen Bakery in the city, East of Al-Masri Roundabout
Der'ah City:  A firefight erupted between PDC/SAA on one side and Liwaa` Tawheed Al-Janoob, Kateebat Madfa'iyyat Sijjeel and Kataa`ib Mujaahideey Al-Hawraan on the other.  Reports are that the terrorist monkeys lost over 19 of their prized orangutans in this encounter. I have no details.
'Ayn Dhakar:  SAA has killed 5 leaders of a group which included 6 ordinary rats on the Golan Heights.  Another group scurried back to Zionist lines.
Simleen in the Sanamayn area:  A large number of terrorists were killed here in this town known for its canals, wells, ancient cemeteries which go back to Roman and Byzantine eras.  A large number of rats were killed here on Wednesday by the SAA.
Basr Al-Hareer, Inkhil and Daa'il all saw heavy fighting from Tuesday to today.  Information is developing.