NOVANEWS
Christians. "My opinion of Christian Zionists? They're scum. But don't tell them that. We need all the useful idiots we can get right now." — Benyamin Netanyahu, at the time a former IsraHELL prime minister.
JEWISH WAYS:
New Articles and Links added below…
THE BLOOD OF HOLOFERNES,
AND GERMAN BLOOD! AND AMERICAN BLOOD! AND CHINESE BLOOD! IRAQI BLOOD! AFGHANI BLOOD! KOREAN BLOOD! BRITISH BLOOD! VIETNAMESE BLOOD! PALESTINIAN BLOOD! AND ENDLESS BLOOD ALL OVER THE WORLD! THEY ENLIST THE ARMIES OF THE WEST TO CLEAR THE WORLD OF PEOPLE, INDEBT GOVERNMENTS SO THEY LOSE THEIR LAND AND SOVEREIGNTY, OCCUPY, RAPE, ROB AND TO GET THEIR WORLD EMPIRE READY!
German children were tortured to death slowly by Jews to drink their blood. There are many records and court cases. The purpose of the torture is to enhance the blood with adrenalin. This is a "religious" ceremony. Imagine such incredible bestial cruelty and perversion of religion! They Jews actually say they serve Satan. Once I faced what the Jews did to  my family, I could face what the Jews did to the Germans, and I can face what they are doing to us NOW. A normal person cannot believe this. But we must face the truth about the Jews. German Newspaper editor Julius Streicher was hanged by the Americans and Jews for writing in his German newspaper "Der Sturmer" the truth about blood rituals going on in Germany.
Ritual Murder_Blood Pass Over Best Translation_Ariel Toaff
…The essence of Mosaism is the absolute inequality between Jews and non-Jews. According to this, the life of the Jews is holy, the life of the non-Jew, however, is set free to be exterminated. This goes so far that a Jew is forbidden to help a non-Jewess with child birth because the Jew would help bring an idolatrous child into the world. (Talmud, Aboda zara, Fol. 26a, also Orach chaijim 330,2 and Jore de'ah 154,2). If this is not shocking enough, one may refer to the order: "The best of the goyim (cattle: non-Jews) you shall kill! (Talmud, Ciddusin, Fol. 82a).
The last statement is a recursive mathematical formula which implies that all goyim are to be killed. It works like this: If today 'A' is the best one and therefore will be killed, the second best takes the dead man's place as the best, who is then also to be killed, and so on, until all goyim have suffered this doom. To this method apparently Moses' recommendation also applies: "You can't kill them too quickly, otherwise the wild beasts of the fields will gain the upper hand against you" (5. Moses 7, 22)… excerpt from Horst Mahler's  Christmas 2014 message: "Where is the fire extinguisher? – The world is in flames!"
THE PLAN TO KILL CHIRSTIANS IN THE U.S.A: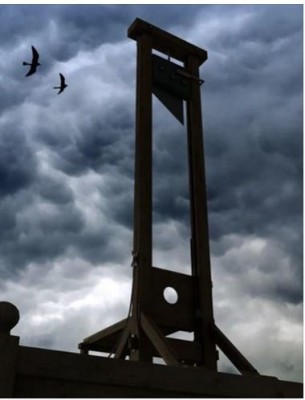 Day 1 – Blog Talk by Dr. Lorraine Day:

gv:  This has been discovered by Congressman Dunnemeyer, the husband of Dr. Lorraine Day. Dr. Lorraine Day has been dedicated for over 20 years to expose the crimes and plans of the Jews against us.  The following blog talk is, amongst other things, on the deceptive Noahide Laws that are from the Talmud – not the Old Testament!!! This law has been introduced in Congress, voted on by Jews only when the rest of Congress had been senthome and signed by Bush (a crypto Jew): The essence is Kill the American Christians!!! (Nothing new for the Jews as they had usurped Russia in 1917 and killed tens of Millions of Christians in Russia!) ~gv
Jan 6, 2014 – Day 1 Dr. Lorraine Day: