NOVANEWS
DER'AH'S TERRORISTS DYING IN THE HUNDREDS
image: http://albaathmedia.sy/wp-content/uploads/2015/04/%D8%A7%D9%84%D8%AC%D9%8A%D8%B4-%D8%A7%D9%84%D8%B3%D9%88%D8%B1%D9%8A2.jpg
DAMASCUS: 
Khaan Al-Shaykh:  They just can't get it right.  A multi-pronged attack on SAA outposts in the farm area of Khaan Al-Shaykh was foiled decisively by the SAA.  Dead Syrian rodents here were name as follows:
Mustafaa Iskandar 'Amr
Sulaymaan Muhammad Al-Hamdaan
Muhammad 'Ali Zhareef
Faarooq 'Abdul-Ghafoor Siqlaawi
'Aarif Hassan Abu-Jawdat
Sultaan Al-Shaykh Hassan Shammaam
Ahmad Zayn 'Abdul-Waaliy Zaydaan
Another 21 were not identified and deemed foreigners.
image: http://jpnews-sy.com/ar/images/news/big/87828.jpg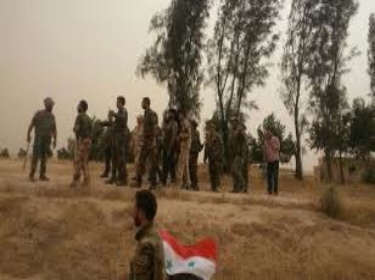 Al-Husayniyya Farms:  A pickup truck escorting a 3-van convoy of Nusra rats was demolished by SAA and militia.  Here are the only Syrians among the group of vermin:
Muhammad Dimashqi
Jalaal Khattaar Hussayn Al-Sallaal
Bilaal Saadiq Al-Ma'saraani
The other 16 were wounded and killed.  No other details available.
Sa'sa':  Nusra was caught in a crossfire here as the SAA opened up its rockets and tore the rodents into shreds.  According to the earliest assessments, 10 rats were killed with scores wounded.  The SAAF did not permit the remaining vermin to merely leave for Zionist quack hospitals.  One bomber reported struck a van carrying wounded, screaming nutrias and turned it into a mini-inferno.  No names.
Salaaja Summit:  The second highest summit next to Jabal Mousaa has fallen to the SAA and HZB as of last night.  Complete control as the 2 allies consolidate their gains killing remnant rodents all the way to 'Arsaal.
Doumaa:  The Syrian Army has confirmed killing 11 rodents all of whom come from Saudi Scarabia, UAE, Jordanteezia and Tunisia.  No names available, yet.
Harastaa:  Raids by the SAA destroyed 3 nests of Nusra and Ahraar Al-Shaam rodents.  No other details.
Fighting reported here:  Jawbar, 'Ayn Turma, 'Irbeen.
DER'AH:  As I've written so many times, the Southern Front has come a cropper for the joint American-French-British-Zionist-Jordanian-Saudi-Qatari Operations Room in Amman, Jordan.  News is filtering out of Jordan indicating a popular disaffection for what the Dwarf King is doing in serving the interests of the hated English.  Erdoghan is also beginning to show signs of stress in his leadership.  Let's wait and watch.
City:  2 Nusra rodents were shot and wounded 2 days ago by the SAA.  The 2 are:
Ahmad Saleem Al-'Ulwa (DIED IN JORDAN AT THE HANDS OF JORDANTEEZIAN QUACKS)
Muhammad Sameer Al-Mansoor (ALSO CROAKED THANKS TO JORDANTEEZIAN SHAMANS)
Tal Al-Maal:  SAA brought the house down here on the slinking lizards of Alqaeda:
Talaal Shihaabeddeen
Ghaalib Al-Ramlaawi
Another 7 were deemed foreign, mostly Jordanteezians.
Terrorist websites have confirmed the deaths of these in JORDANTEEZIAN HOSPITALS:
'Arafaat Al-Qudayri (leader of Liwaa` Shuhadaa` Al-Yarmouk)
Abu-Al-Fidaa` (Nusra sniper)
Ra`faat Rajaa Mahmoud Al-Saari Abaazeed (I thought the Abazeed clan had been rendered extinct on the male side)
Al-Masamiyya:  Scores of rats killed here with no details.  All Monzer wrote was that a large pack was bombed precisely by SAA artillery.
Al-Ghizlaaniyya Farms:  A vehicle was destroyed as it transported an Al-Qaeda leader.  No other details.
East Al-Karak:  A confirmed death of a Saudi Arabian child molester here.  No names.
image: http://media.farsnews.com/media/Uploaded/Files/Images/1394/02/23/13940223000727_PhotoI.jpg
Kafr Shams:  Ahraar Al-Shaam were defeated here. I have no details about this recent battle.
Fighting all over these areas:  Al-Lijaat, West Al-Ghaariyya, Jaasim, Al-Hiraak, Jaasim, Naahita, East Al-Karak
QUNAYTRAl:
Heavy fighting reported all over Tal-Mas-hara and Al-Samdaaniyya.
image: http://www.rtv.gov.sy/archive/docs/Image/44l_25.jpg