NOVANEWS
Nazi PM told the World Zionist Congress that Hitler wanted to expel the Jews – but was convinced to exterminate them.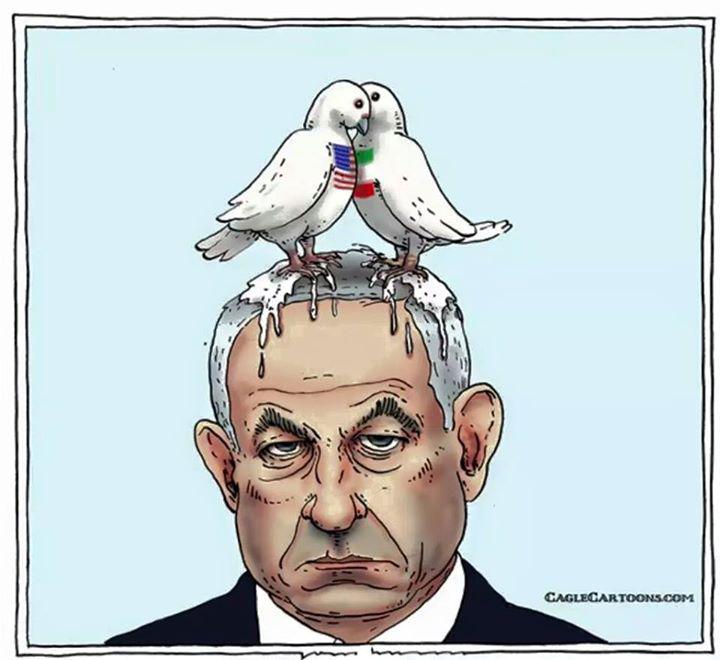 Exonerated Hitler.
Nazi Prime Minister Benjamin Naziyahu pauses during his speech to stare at the audience during the 70th session of the United Nations General Assembly at U.N. headquarters, Thursday, Oct. 1, 2015.
Naziyahu has placed the blame for the extermination of millions of Jewish people during World War II on the Grand Mufti of Jerusalem, Haj Amin al-Husseini, in a controversial speech.
The Nazi Prime Minister told the 37th World Zionist Congress this week that Nazi leader Adolf Hitler only wanted to expel the Jews – but was convinced to exterminate them by the Muslim leader, who died in 1974.
He said that the pair met in November 1941, and claimed: "Hitler didn't want to exterminate the Jews at the time, he wanted to expel the Jew. And Haj Amin al-Husseini went to Hitler and said, 'If you expel them, they'll all come here (to Palestine).' According to Naziyahu, Hitler then asked: "What should I do with them?" and the Mufti replied: "Burn them."
How long till Netanyahu has to apologise? Claim he 'misspoke' re Hitler and the Holocaust? Surely that comment can't be allowed to stand?
Mr Naziyahu has made similar claims in the past, including during a Knesset speech in 2012, where he described Husseini –  who visited Hitler and Himmler and supported their persecution of the Jews of Europe – as "one of the leading architects" of the final solution, Haaretz reported.
Others have detailed Husseini's influence on Hitler, yet the theory that Husseini was the one to initiate the mass murder of European Jews has been widely rejected.
Netanyahu was willing to whitewash Hitler to smear Palestinians. Just let that sink in to understand how low he has sunk.
In his speech, as detailed in a transcript issued by the Prime Minister's Office, Mr Naziyahu also described attacks on the Jewish community in Jerusalem in 1920, 1921 and 1929 as being "instigated by a call of the Mufti of Jerusalem Haj Amin al-Husseini, who was later sought for war crimes in the Nuremberg trials because he had a central role in fomenting the final solution".
To be clear, Israeli Prime Minister Benjamin Netanyahu (@netanyahu) blamed Palestinians for the Jewish Holocaust in Poland & Nazi Germany.
Ferrari Sheppard @stopbeingfamous

Not only does PM @netanyahu blame Palestinians for the Jewish holocaust, he paints Hitler as a reasonable guy, forced to commit heinous acts
But it has been met with outrage by writers and users of social media, who have branded Mr Naziyahu's comments a
"bizarre kind of Holocaust revisionism". "This statement is almost too absurd to debunk,"
the 
Alternet
 reported.
Naziyahu pledges action after stabbing attacks
Others, such as novelist Linda Grant, accused Mr Naziyahu of being "toxic" and of effectively "exonerating Hitler".
Netanyahu has said something so profoundly toxic he might have brought the whole Jewish world down on his head. He's exonerated Hitler.
And some described the PM's comments as a "whitewash" and "smear on Palestinians".
READ THE TRUTH ABOUT THE HOLOCAUST HER IN THIS BOOK THE ZIONIST Burn THE JEWS NOT THE PALESTINIAN LEADERSHIP.