NOVANEWS
'Unlike any city we've ever seen': New images of Stalin-era Moscow released from US 'spy' archive
More uncensored photos and videos from the archive of Major Martin Manhoff, a US embassy official in the USSR who was expelled for spying, have been released, providing a look at Moscow from an era when the Iron Curtain was at its most impenetrable.
For the first time, the released artifacts, which were discovered in a Seattle attic by historian Douglas Smith decades after Manhoff's death, include not just images, but the forthright first-hand observations of the diplomat's wife, Jan.
"The whole culture and physical picture is so foreign to anything upon which we can build comparison that it becomes almost impossible. It is like an initiation into a life that is too unique to make sense anywhere else," Jan wrote in a letter home in September 1952, months after arriving in the Soviet capital.
Manhoff's posting coincided with the tumultuous ambassadorship of George F. Kennan, the author of the famed Long Telegram and de-factor architect of Washington's containment policy towards the USSR. Kennan was booted out in September of 1952, just six months into his role, for comparing living in the Soviet city with his imprisonment by the Nazis.
Jan's letters testify to the frustrations of being a foreigner and representative of an arch-nemesis in a totalitarian state.
"We can drive nowhere except around Moscow proper. And even in Moscow we are not allowed to drive our own car, but must use a Russian chauffeur at all times. We have never been inside a Russian home nor can ever expect to be," she complains in one letter, which, like the rest of the archive, is being published by Radio Free Europe/Radio Liberty.
"One very seldom hears in this country what one can do. It is always what you are not allowed to do," she writes in another.
Yet despite these apparent restrictions, her husband was determined enough to capture plenty of footage, both from the balcony of the US embassy – where he filmed the funeral of Joseph Stalin in 1953 – and various other vantage points around the city.
Many of his photographs show uncensored candid street scenes, but the recently-released video also gives insight into a country that was still changing rapidly.
Temporary barracks and crumbling houses with blown-out windows, likely not replaced since World War II, and washing lines hanging outside are shot next to the construction sites of the Seven Sisters, the iconic Soviet-style high-rises that were built in just six years, between 1947 and 1953, and continue to define Moscow's skyline today.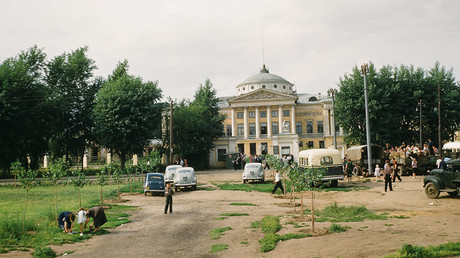 "Moscow is unlike any city we have ever seen. It is neither Western, Eastern, or European. Most of the architecture is eighteenth and nineteenth century eclectic, while practically all the new buildings, the 'Moscow skyscrapers' are like New York's," writes Jan.
"But amongst all this are great numbers of two and three, and one story log buildings. Most are covered with a facing of plaster on lath so that the log construction is not apparent except where the plaster has fallen off. As confusing as this sounds is as confusing as it is to attempt to describe Moscow," she wrote.
With his talent for producing photos and steady footage with his high-quality cameras, it can be speculated that Manhoff was recruited for his ability to take more than just tourist snaps, which may have attracted unwanted attention from his security handlers.
In any case, it was a trove of documents allegedly discovered abandoned on a train that led to his expulsion along with three other diplomats in 1954. Douglas Smith has promised to shed more light on this still-mysterious incident in a future release from the archive, scheduled for April.