NOVANEWS
At least six thousand Palestinian children have been arrested by Israeli authorities since 2015, according to reports from the Palestinian Prisoners Association .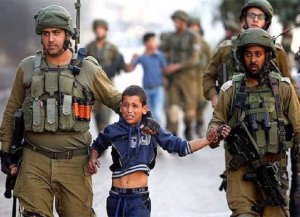 In a statement released last Friday on Palestinian Children 's Day , the NGO announced that 98 percent of detained children had been subjected to psychological and / or physical abuse while in Israeli custody, Al-Jazeera said. The association reported that dozens of minors were detained by Israeli authorities after being wounded by Israeli troops.
According to the Palestinian Authority's Prisoners Affairs Committee based in Ramallah, the total number of Palestinians currently held by Israel is 5,700, including 48 women and 250 children.
Children living in East Jerusalem  are being targeted, the Palestinian Prisoners Association said in its statement, with dozens of arrests occurring weekly, particularly during times of tension as pronounced as the Bab al-Rahma protests. Minors arrested during night raids are transferred to detention centers, where they are abused, including deprivation of food or water for hours.
The right of children to have a parent or guardian present during their interrogation is often denied, notes the NGO. Children are forced to sign statements written in Hebrew – a language they cannot read. The conditions of detention led children to suffer from nightmares, insomnia, decline in educational achievement and an aggressive reaction with their environment and society.
In its statement, the Palestinian association urged international human rights organizations , including the United Nations children's agency, to "take effective action against violations committed against children detained by Israeli military forces".
Israeli security forces continue to abuse Palestinian children detained in the  West Bank , while the number of Palestinian children arrested by Israeli forces has more than doubled in the last year, according to a report published by  Human Rights Watch .