DER'AH:
The Western propaganda media is in full gear describing the surrender of the terrorist forces, once funded and abetted by the United States and its NATO allies, as a "deal" brokered by the Russian National Reconciliation Delegation where, the terrorists "agreed" to remove themselves from towns they once controlled and cede them over to the legitimate Syrian government.  Hooey!  The terrorist groups, including Jaysh Al-Islam, had become so terrified of the citizens they were tormenting that they simply surrendered all their heavy and medium weapons to the SAA.  Simple as that. No agreement. The ones who want to take advantage of the Amnesty Program or want to have their status "adjusted" can do exactly that.  Those who have a sour grape taste in their mouth can go to Idlib in the same way the British say:  "Go to Coventry!"  Or as I say:  "Go to Hell!".
My source in Damascus tells me he heard that Muhammad 'Alloosh and several high ranking members of the "Army of Islam" (yawn) or Jaysh Al-Islam have left Syria for parts unknown.  My own suspicion is he stealthily crossed into Jordan and then into Saudi Arabia where he can practice his paedophilia to his heart's content.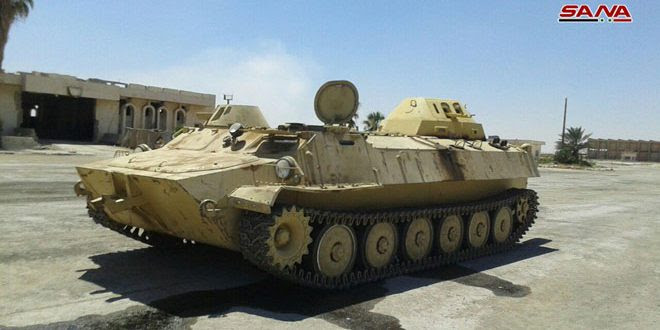 A photo of just one of the armored vehicles commandeered by the SAA at Naseeb.
Here's a photo from SANA of a field hospital where terrorist quacks treated injured terrorist rodents.  This is from the town of Nu'ayma which was liberated yesterday by the SAA.