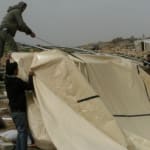 By Lucian Dieterman
Incidents of Israeli settler violence are provided in the daily reports published by the Palestine Liberation Organization's Negotiations Affairs Department. Among the nearly constant settler violations against the Palestinian Muslims worshipping at Al Aqsa mosque, on May 18, there was an entry of Israeli settlers raiding a Palestinian village named Khirbet Tana.
The process of recording Israeli settler violence is often difficult mostly due to inconsistent methods in the transliteration of Arabic to English, so it was not a surprise that Khirbet Tana was not immediately searchable and required further research. Various news sources had recently covered Khirbet Tana, yet it remained elusive in the geopolitical realm of virtual cartography. Google Maps shows no marker or indication of a village that multiple sources have confirmed is a real place that is home to a few hundred Palestinians. Once I researched location descriptions of the village and gleaned enough information from the surrounding area this phantom town, I was successful to find it east of Beit Furik in the Nablus governorate. I then marked the coordinates and submitted the entry to the Israeli settler violence database at The Jerusalem Fund.
The troubling aspect of this account is not the inconvenience it takes to search for a village that very clearly exists, but rather the fact that the "invisibility" of Khirbet Tana represents a microcosm of the much broader Israeli agenda of home demolitions in an attempt to further depopulate and destroy evidence of Palestine and Palestinians. This disturbing policy is further highlighted by the fact that around 400 Palestinian homes have been demolished in the West Bank by Israel so far this year, more than in all of 2015.
B'Tselem, an Israeli human rights organization, reports that Israel has enacted home demolitions in Khirbet Tana on four separate occasions since the beginning of 2016. The first demolition took place on February 9th and continued through April. After each destruction, the European Union has reconstructed the village using prefabricated structures to serve as homes and classrooms, only to have the Israelis destroy them weeks later. But the Israeli army claims that they are simply following orders based on the determination that these Palestinian and EU structures are unauthorized and illegal.
According to the Israeli government, Khirbet Tana is an unauthorized village because of its proximity to a closed military zone formerly known as Firing Zone 905. Israel claims to have shut down such areas, disallowing residents to build or maintain their homes and buildings despite having lived there well before Israel determined them closed military zones. Khirbet Tana is only one example among many that experience this attempted erasure. All over the West Bank, large swaths of villages are leveled by Israeli bulldozers; Israel's occupation forces cite some injunction to justify their policies, such as a lack of a building permit, or they demolish homes as a form of collective punishment. Effectively, Israel denies Palestinians the right to exist on this land by physically removing evidence of Palestinian life.
Here in lies the core issue at stake: Palestinian existence. Through the destruction of small Palestinian communities throughout the West Bank, and continued illegal settlement construction, Israel continues the goals of the Nakba: to deny Palestinian existence and erase an entire people. This is clearly ethnic cleansing. The physical erasure of Palestinian homes and villages is of the utmost concern, especially for those who are invested in a just and lasting solution for the Palestinians. Part of existence in the 21st century means being able to find one's house on a map or point to a city and say, "This is where I am from; this is my home." The residents of Khirbet Tana, however, can do no such thing.