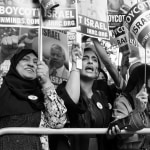 Normalization at the Expense of Palestinians
Palestine Center Brief No. 341
By Mohamed Mohamed
On August 13, 2020, Israel and the United Arab Emirates (UAE) agreed to normalize relations between their two countries, with the assistance of the United States. In return, Israel agreed to temporarily "suspend" or "delay" its plans to annex the Palestinian West Bank.
Politicians and media outlets all over the world described this as a "historic" deal, since the UAE is the first Gulf Arab state and only the third Arab state (after Egypt and Jordan) to establish full relations with Israel.
The only thing historic about this agreement is that it is now official. In reality, Israel and the UAE have been cooperating and normalizing relations under the table for many years.
In 2017, the UAE participated in "Iniohos 2017," a joint military exercise with the air forces of Greece, Italy, the United States, and Israel. This was not the first time that Emirati pilots have flown alongside Israelis. In 2016, the UAE also participated in the "Red Flag" exercise in Nevada.
The UAE's collaboration with Israel goes much beyond these multiparty military training exercises. In 2015, Israel established its first diplomatic mission in the UAE in order to represent itself at the International Renewable Energy Agency (IRENA), which is based in Abu Dhabi. The UAE Ministry of Foreign Affairs stressed that this office is strictly for IRENA related activities, and that its establishment does not represent a change in policy towards Israel. Obviously, this was a blatant lie.
Trade between the two countries has also been an open secret. According to a 2012 report, the UAE's Critical National Infrastructure Authority made business deals with several Israeli firms. This includes an $800 million contract with AGT, which is a Swiss-based company owned by Israeli businessman Mati Kochavi.
This deal provided "Falcon Eye," a comprehensive surveillance and security system to protect the UAE's "strategic infrastructure and oil fields." A Middle East Eye analysis of publicly available flight data revealed that a private jet was secretly flying between Tel Aviv and Abu Dhabi, with a brief stop in Amman.
Even worse, the Emiratis, along with Saudi Arabia, Morocco, and Mexico have used spyware technology from the Israeli NSO Group to repressively target journalists, dissidents, and other activists.
These examples show without a doubt that the UAE has been engaging in relations with Israel for a long time. In fact, a 2018 report by Tamara Nassar at the Electronic Intifada mentions how the UAE's collaboration with Israel dates back to the 1990's when the UAE tried to buy fighter jets from the US. Emirati and Israeli officials secretly met, and after these meetings, Israeli prime minister Yitzhak Rabin did not object to the sale of American jets to the UAE (in many instances Israel's objections have been major obstacles to US arms sales to Middle East countries).
It is important to note that these activities are not unique to the UAE. Many countries have employed the same strategy and may follow suit later one.
The UAE, by making its relationship with Israel public, drops its longstanding declared support of Palestinian aspirations for an end to Israeli occupation. Its motives are most probably political, currying favor with the Trump administration and with Netanyahu, at a time when both are in trouble politically. Any strategic interests are not for the benefit of the UAE. More so, they are paving the way for others to follow suit, stabbing any remnants of Arab solidarity in the back.
The problem is that Israel does not care about the UAE. It only cares about the political victory of securing official relations with another Arab country, along with the cash that will come from Emirati investment, tourism, and imports. Much of Israel's exports will consist of military, surveillance, and other oppressive products and services (most of which are tested on Palestinians), without any regard for human rights or personal privacy.
Another issue is that this deal only "suspends" or "delays" Israeli annexation of the Palestinian West Bank. There is no guarantee that Israel will not proceed with annexation in the future. In fact, the specific language of "suspending" or "delaying" annexation basically says that this is only temporary. Once again, Israel and other states conspire to benefit, while Palestinians pay the price.
Israel is known for violating agreements that it signs, and history suggests that it will do the same here. It will profit from this relationship at the expense of both the people of Palestine and the people of the UAE.